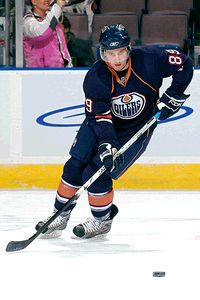 Sam Gagner's confidence is in the basement, and Erik Cole's is right there with it. Gagner (1-4-5 -3 in 21 games) has gone away from his game. A playmaker by trade, Gagner has decided to try to be a sniper this year. 6th on the team in shots with 41, Gagner took his early season goalless streak too much to heart. His passing ability has been on hiatus while we have guys like Cole who could really use a guy to set him up in scoring situations. Gagner's situation is unique on this team because he is too young for anything more than a cup of coffee in the AHL. However are we at that point? Would the team be better off to call up a playmaker whose playmaking confidence is at a very high level?
Maybe they'd be better off calling up a goalscorer whose confidence is on the rise? At what point does Gagner's confidence take a long lasting hit by being unproductive at the NHL level? Maybe a few weeks away from the spotlight of the NHL could get Gagner back on track again.
Then there's Erik Cole (3-4-7 -3 in 22 games). After coming over in a trade with Carolina for Joni Pitkanen, Cole was immediately pencilled in as the top line LW despite doing his best work in the NHL as a RW. Proving that a lack of confidence can hit a veteran just as badly as it can a 19 year old sophomore, Cole's play has really dipped after an encouraging stretch of 3-4 games after he was moved back to his natural RW.
There is no AHL in Erik's short term future, so what can be done to get him going? For one he could get bumped to play with Nilsson and Cogliano, for 2 he can play with Gagner and another offensive guy like Schremp or Brule on the teams 3rd line.
Cole's situation is a dire one. He is an UFA, and if he doesn't want to return next year we lose his rights for nothing. The Oilers need him to play well to decide if he is a player that they want to sign, and if not, at least a valuable trading chip come the trade deadline.
The Oilers need to get him going at all costs.
What needs to happen with these 2 players? Both are crucial to this team this year and next (at least in an assets perspective for Cole). Something has got to give.