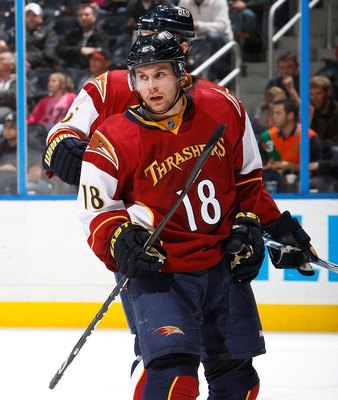 At this rate the Oilers are probably two strong drafts and two putrid seasons away from looking to ice a contender. The veteran core here is quite frankly rotten to the core. Hemsky, Penner, and Horcoff are all wearing the stink of a perennial loser and chances are that this team will be better off without them long term. This team needs to be built around players that show up every game and guys that have fire in their bellies.
The best thing the Oilers could do would be to deal Hemsky and Penner at the deadline for picks/prospects/young NHL players, and look to move both Horcoff and Nikolai Khabibulin if possible. Then look to inking guys close to being taken out to pasture that have one last season in them to big one year contracts to keep pressure off the kids without getting stuck with long term commitments with guys that might not have a place here in short order. The Oilers are missing a number one defenseman and a true first line center. Once they get at least one of these players they can't start to fill the holes around them.
Maybe dealing Hemsky for Nicklas Bergfors and Carl Klingberg would do both teams a world of good? Penner for Kassian + and a salary dump? One thing is for sure this does not look like a quick fix, and unless all three of our rookies really take off and the rest of the team follows suit, this is a mess that won't be cleaned up with just one paper towel, and just one draft. Buckle up everyone, this is going to be a long drive, hopefully it leads us to the promised land.