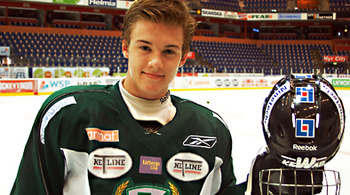 As much as this draft seems to be taking heat in terms of a lack of high end skill, it still looks like there will be some very promising players around at picks #19 and #31 for the Oilers. While the 1st overall pick doesn't look like a potential Crosby, Ovechkin, Stamkos, or even Tavares or Hall, RNH will be a #1 center in this league and not by default like our current two headed monster at center.
Beyond the 1st pick in the draft is the ever important #19 pick that was acquired in the Dustin Penner to LA deadline day trade. At this point in time it looks like the Oilers will have an opportunity to draft a potential 2C with size or a quality defenseman with that pick. It is no secret that we are in need of both of these player types. Beyond that we also lead off the 2nd and every subsequent round that we have a pick in (one of the truly great benefits of being a poor team) and we are looking at a core building block and two players that we'll likely need when we are ready to compete as well as the first crack at fallers on draft day.
Slowly but surely you can see the holes being filled and the makings of a fast, skilled, and big team with character coming together. Besides elite talent winning teams need depth and lots of it, this could be a draft where we shore up a ton of quality depth before once again swinging for the fences for another elite talent in the lottery next June. While all eyes are on the 1st pick right now, it could be the LA pick and our 2nd round pick that ultimately makes this a good or a great draft for the Oilers.