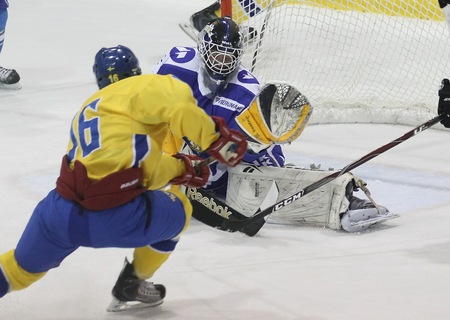 The potential second line centers are now the hot topic of conversation in my top 10 list. Anton Lander is an interesting case, he has a number of things going for him. He is a leader, he plays a two way game, and he is part of the Swedish contingent that has been built up in recent years.
Last season watching Paajarvi and Omark play so well together, it made me wonder how well they'd do with a third like minded player that can cycle a puck like they could, a third Swede. A player that could take some of the defensive pressure off of Paajarvi and let Omark do what he does best, create offense.
In this regard Lander would not need to be a big time scorer as long as his line as a whole was productive and played well on both sides of the ice. Lander has this luxury unlike any of the other up and coming C prospects. Unlocking Omark's offensive game, freeing up Paajarvi to think more offensively, and doing all of this while also adding grit, leadership, and chipping in offensively. It could give Lander a leg up on second line C going forward despite maybe not being the most talented of our 2C prospects.
Omark-Lander-Paajarvi, I could see that as being a very solid second line moving forward. A mixture of creativity, skill, speed, grit, and two way play. I wonder if Renney will have the guts to try this trio in camp, because if he does I think that we will see some magic out of them. Gagner had damn well better be ready.