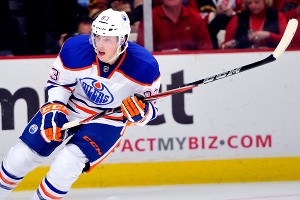 No, seriously he does. With all of the talk about sending RNH down, RNH's upside = Gagner, the 2011 NHL draft not having top end talent, the kid is too damn skinny to play in the NHL, he can't produce at ES in the NHL, etc. Ryan Nugent-Hopkins is making a lot of people look dumber than what all of us look like when we are in total awe of this young phenom.
This is what other prominent/high scoring rookies straight out of the draft have done since the lockout, and yes for now RNH is out pointing none other than Sid the Kid. It might not be for long as Crosby amassed over 100 points in his rookie year, but no matter how you slice it, RNH is the real deal.
After 30 Games
RNH 13-19-32 +3 62sog.
Crosby 13-18-31 -8 95sog.
Kane 7-23-30 -2 81sog.
Tavares 13-11-24 -1 76sog.
Skinner 8-14-22 -5 79sog.
Duchene 8-9-17 -9 67sog.
Hall 10-6-16 -8 85sog.
Landeskog 5-8-13 +4 91sog.
Gagner 3-10-13 -8 40sog.
Seguin 5-6-11 +2 54sog.
Stamkos 3-9-11 -13 66sog.
Couturier 28gp. 5-3-8 +8 44sog.