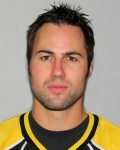 + Enlarge
Guillaume Lefebvre deserves an NHL contract. I have seem him in numerous fights this season, and none of them were as impressive as today's bout with 6'5" 247lb. Kevin Westgarth. Westgarth is a guy that crossed paths with Steve MacIntyre last year (check out the youtube videos). He is NOT a powder puff, nor is he a small man by any stretch of the imagination.
Enter 6'1" 195lb. Guillaume Lefebvre. Tonight they went at it and I thought that Guillaume had bitten off more than he could chew, and that he might end up getting the short end of the straw at the very least. They start out by sizing each other up for some time, then they get at it.
Westgarth starts throwing big rights that fall well short of their mark, and I get the feeling that Lefebvre is in for a rough night. Lefebvre throws some rights, however Westgarth has the obvious reach advantage, and I feel even worse for Guillaume.
Then Lefebvre switches to southpaw and starts landing some hellacious shots. The big man also lands some lefts, both men were chucking some bombs. Lefebvre landed the higher percentage of lefts and the better caliber of shots as well IMO.
The refs stepped in and Westgarth left the bout with a crimson trickle coming down from his left eye. This is not an uncommon sight when "Lefty Lefebvre" starts jack hammering his opponets with those left hands.
To put this bout into perspective, this is the equivalent (in terms of size) of Shawn Horcoff fighting Steve MacIntyre. And not only did Guillaume not back down, he held his own, took a few more shots than he gave, but he landed most of the better shots in this bout. I'd give him the decision in this one.
Lefebvre is about as tough as they come in terms of sub 200lb. hockey players. He is incredibly strong, solid like a wolverine, he looks like he's stiff because he is so muscle bound out there, and he hits like a truck.
This is a guy that should be signed to a 2-way NHL minimum contract the minute that he is ready to leave the arena in Manchester tonight. He is a guy that could fill Stortini's role while providing more toughness and some intimidation. He has also been on the PK in Springfield this year and is always ready to throw his weight around.
Lock him up Lowebellini, if not, one day he'll be coming back to haunt us by rocking some of our players.