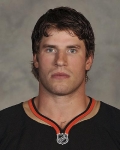 Iowa (AHL) 28gp. 3-6-9 +4 59pim. (including 7 fighting majors)
Nothing earth shattering, but at 6'4" tall and 225lbs. this large winger also brings some very good speed to the table. Bodie will soon be 24 years of age, and he is far from a blue chip prospect, however I really liked his combination of size and speed. The Oilers let him walk this offseason and he signed a two way NHL contract with the Ducks.
It could be argued that the Oilers felt that Colin McDonald has a better pro career ahead of him. The problem is that McDonald's play has been much more ECHL-like than AHL-like this season.
Colin McDonald 25gp. 3-3-6 -4 22pim. turned 24 in September of this year. The difference? He has a 2nd round pick pedigree and is more of a shooter, while Bodie is more physical, a better skater, and better defensively.
Bodie will be a solid 4th liner in the NHL one day. It may not be for a few more years, but he should make it there eventually. McDonald at the moment will be hard pressed to be a productive top 9 AHLer this year or next.
I doubt that the Oilers could use a guy with size and speed on the 4th line right now. This could've been Bodie's chance instead or Reddox's if the organization made the right calls in terms of which players to keep and which ones they should let walk.