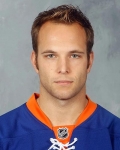 The moment that he was benched late in San Jose, I knew that it was inevitable.
MacT
is still far from a fan of
Schremp
. He's even less of a fan of a 3 scoring line approach. Rob
Schremp's
days as
Oilers
property is probably running on fumes at this point.
He's ready to be an NHL player, but under this coaching staff and with the kid line getting the push ahead of him, there is little for
Schremp
to gain by staying in the organization, and by sending him back to Springfield it takes away playing time from
Brule
,
Trukhno
, and
Lerg
.
Unless the
Oilers
are fixing to open up a spot for #88, he's as good as gone.
Schremp's
patience is likely spent, and managements patience for
MacT
is immeasurable. Without a coaching change,
Schremp
will be seen as nothing more than a bargaining token to get our beloved coach another grinder to compliment our $4, $2.5, and $2.25(?) million grinders.
Lowe, the scouting department, and
MacT
are on completely different pages. Lowe and the scouting staff are looking to add as much skill as possible, the coach is looking to add as much grit, jam, and defensively reliable players as possible.
Playing
Pisani
out of position because Lowe "robbed him" of
Sakic
Jr. and
Stoll
,
MacT
needs a reality check. He needs to change his
gameplan
to the players that he has been dealt with. Instead he keeps changing players into what he'd like to have seen acquired.
It's too bad that Kevin Lowe doesn't have the balls to tell
MacT
to either make the best of what he's been given and change his style, or hit the high road.
Oh well, at least we can look forward to
Eberle
getting the shaft if he's still coach in 2-3 years.
Since, I've been pretty bang-on predicting what happens with Schremp, I'll call it right now. The next injury in the top 6 will see Brule and not Schremp getting the call. Nothing against Jillbear, but it's how the Oilers roll in regards to #88.