(Dany Sabourin Above)
(Ryan Stone Below)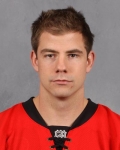 + Enlarge
That's what it appears like to me unless the Oilers decided to lop off one of the heads of the 3 headed goalie monster just to transplant another one into its place. Great for Garon to get a fresh start, his fall from grace here was meteoric. I wish him nothing but the best, if not for him last year the Ducks could've ended up thanking Lowe for the top pick in last years draft.
So who do we get in return?
Goaltender Dany Sabourin
6'4" 200lbs. 29 years old


19gp. 6-8-2 with a 2.85GAA and a 0.898 save % for the Pittsburgh Penguins
Center Ryan Stone
6'2" 199lbs. 23 years old


38gp. 9-19-28 +2 53pim. for the Wilkes-Barre/Scranton Penguins
A 4th Round Draft Pick
in 2011

I would imagine that both players could be seeing their way to Springfield with both players needing waivers if they are transferred to the big clubs first. I pray that the Oilers aren't looking at keeping 3 goalies again. IMO if the Detroit deal for Roloson is legit, then take it and run with Sabourin and Deslauriers.
If not, see if Sabourin will clear waivers. Tambellini's 1st trade comes and to no ones surprise a goalie is leaving town, but to my disgust another one comes back in the deal.
So long Mathieu Garon, you were a good trooper, and you will be missed by this blogger.