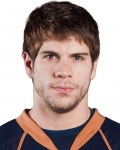 + Enlarge
Gilbert Brule played a number of what I'd call less than stellar games prior to his last couple of games with the big club. Having seen him a ton this year in Springfield I could see that he was far from playing the same type of game that he had been when he was clicking in Springfield.
While it's obvious that a player won't have the same impact at the NHL level as the AHL level 95%+ of the time after a call up, by watching players long enough you can see what they bring to the table when they are playing an effective or ineffective game.
Brule's speed is an asset in any league, the kid can flat out fly. His wrist shot is also a pretty solid weapon in his arsenal. While I missed Tuesday's game, I did see the hi lites, and for the 2nd game in a row he showed really quick and soft hands around the net.
His physical play hasn't been on display as much as it was at times in Springfield, but sooner or later he will catch someone off guard and knock them silly.
Brule clearly has the wheels and hands to be a breakaway threat, however he uses his speed very well down low as well. He likes to take the puck from left to right from the left side of the goal to try to beat the goalie while he moves laterally. Similar to the play that Gagner tries to pull off except with exceptional speed. That is one of his go-to moves. He also likes to use his wrist shot from the left side of the ice down low.
While this could just be a temporary spurt, it does show everyone how talented he is. It is my opinion that his stay in the AHL really helped his game and confidence. If he can keep up his recent play he'll be sticking for the rest of the season, especially since his waiver eligibility will be kicking in soon.
However his mix of speed, goalscoring ability, and dishing out the odd big hit more than makes up for his smallish stature. It will be interesting to see if he stays up ahead of Toby Petersen Version 3.0 Liam Reddox if/when the forward core starts to get healthier.