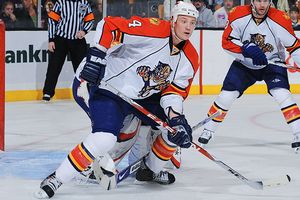 The Oilers are in a position to put together some balanced trade packages to land some elite talent, no doubt about it. BUT, will we be willing to throw out the BEST packages to land a guy like Heatley, and even if so, if the stigma of the NHL's northernmost team one that can be put to bed once and for all?
It is my personal opinion that MacT was not a coach that people were willing to come to Edmonton to play under, however Pat Quinn could be that kind of a coach. New Owner that wants to win and has the means necessary to do just that, franchise and location stability (can that be said about a number of teams in the south?). New GM, a tandem of veteran coaches, and a city that is dying for new heroes to bring respectability back to a once proud organization.
The Oilers are poised to make at least 1 big splash, and with many teams in financial trouble, the Oilers chances of doing just that seems to be better than it was only a season or 2 ago. In a perfect world we acquire Heatley, trade for Tavares, and sign Bouwmeester. This team would be poised to make a big splash in the western conference. Just imagine a lineup sporting these 3 players alongside some of our current young guns.
Hypothetically let's see what the lineup would look like with these trades to acquire Heater and Tavares.....
Heatley for Gilbert and O'Sullivan
Tavares for Visnovsky/Grebeshkov/Souray and Cogliano
Sign Bouwmeester
Heatley-Horcoff-Hemsky
Kotalik-Gagner-Tavares
Schremp-Pouliot-Penner
Jacques-Brodziak-Stortini
Brule, MacIntyre
Bouwmeester-Visnovsky/Grebeshkov
Souray/Smid/Grebeshkov-Staios/UFA
Peckham-Smid/UFA
UFA/Trade
JDD
Gone are Moreau, Pisani, Nilsson, and possibly Staios
Suddenly goalscoring is not an issue, and we'd have the potential to be a top 5-10 offensive team. Oilers hockey would be back in a big way. Of course we'd probably be lucky to have 1 of these deals happen, however I actually think that there's a shot at 2 of these types of acquisitions, Bouwmeester and 1 of Heatley or Tavares. Things are definitely looking up for the Oilers if they can be in the right place at the right time and aren't hesitant to pull the trigger if the deal is even close to being right.