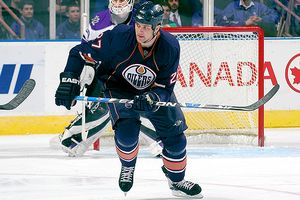 Dustin
Penner
looked pretty damn good to me for an overweight player that can't contribute in coach
Mactavish's
eyes.
Penner
was great in front of the goal and proved to be the final piece to PP (
who'da
thunk it?) he screened on
Souray's
goal, and he created a man sized roadblock so that Gilbert could have an easy goal to seal the deal. Add to this he was hitting, nearly scored on the PK by splitting the
defensemen
like Moses parted the Red Sea, he was an absolute force. Unmotivated, under utilized, but the big fella sure as hell can make a contribution!
Dwayne
Roloson
was superb in net, keeping the team in a great position to win while they got and capitalized on their chances. It's not every night that you score 7 goals with under 20 shots. Sheldon
Souray
continues his gaudy play with a goal and an assist, Marc
Pouliot
breaks a lengthy goalless streak, the boys
finally
got to skating after they put the stranglehold on the game. Lots of positives tonight. However I'll curb my enthusiasm until we carry the massive wave of momentum that was started in this game.
How ironic that the man that
MacT
trashed could have stayed his potential execution? Good on
Penner
for taking his frustration out on the opposition instead of letting it get him too far down. After
Horcoff
scored on the
Oilers
last PP,
Souray
made it a point to give
Penner
a pat on the back for battling in front of the net and freeing up space for the entire PP. I always felt that these 2 could really form one hell of a tandem on the PP.