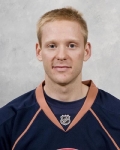 Liam Reddox is a guy that could make a serviceable NHL player. However to do so, he will need to get stronger. He has decent hands for a bottom 6 player, and he has good hands around the net. Reddox's biggest hurdle with the Oilers is that since their top 6 is so small, they need more beef in their bottom six.
When Fernando Pisani and Steve MacIntyre return from injury, Reddox will likely be the odd man out. Reddox will have to get stronger or he will be seen as another Patrick Thoresen, a somewhat skilled player with grit, a good skater, not skilled enough to be in the top 6, but not strong enough to be in the bottom 6.
Reddox will receive an NHL contract next season, but I don't expect him to win a spot out of camp next year when the team is healthier and beefier options are available.