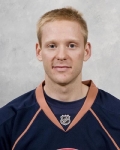 While most people could really give a rats ass about Rob Schremp or Ryan Potulny at the moment as the Oilers have put together a nice little run. Winning can really change things, it has quieted the angry mob that wanted to see the coach out of town not so long ago, and it has dulled the disgusted roar of fans who had to watch Liam Reddox line up next to Shawn Horcoff and Dustin Penner in Ales Hemsky's absence.
However it is my stance that every team goes on runs and every team has slumps. So unlike those that have forgiven what has transpired, I don't. When Craig MacTavish lashed out at Rob Schremp and threw out the quote that I used as the title to this post it was a low blow and one that will undoubtedly be used by me to paint the man as a hypocrite in this very post.
The entire Falcons team was horrible after Schremp was sent down, while Schremp surely should've done better, he was hardly the only guy that was struggling. Hell, even the Oilers most recent call-up Ryan Potulny had dreadful stats in that dark stretch.
Now to the present, coach's pet Liam Reddox did Jack squat this weekend to show that HE was good enough to help the Falcons. 0-0-0 -1 and 1 shot on goal in 2 games for the guy that deserves to be in the NHL over Schremp, Potulny, and Brule? Color me unimpressed and away we go.
Why is it that I don't see him being left in Springfield because HE isn't helping them win despite the fact that Brule and Potulny were there and newly acquired Stone and Willis were also there to help out? Will Potulny get the call instead? I mean he DID score 2 goals in 2 games for the Falcons after all.
Doubtful, if there's a spot on the big club, it will be filled by #85 no matter what he does or doesn't do at the AHL or NHL level, he is one of the coaches chosen ones.
It reminds me of how MacT earlier in the season after Garon had a good game said "I don't like to play goalies in back to back games" I guess Roloson is exempt to that statement. Favoritism does nothing but spawn resentment and a lack of respect. When the team does start to slip again, this post will be here to show all of those that have put their pitchforks and torches away for the time being what they missed.