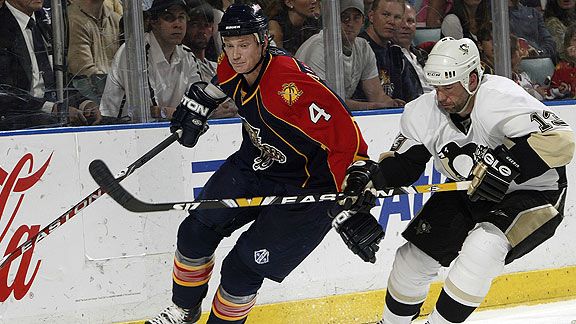 If the Oilers can sign Bouwmeester and in return trade 1 of Sheldon Souray, Lubomir Visnovsky, Tom Gilbert, or Denis Grebeshkov along with one of our younger forwards, the Oilers could be vastly improved and poised to make a strong push next season.
The Oilers will likely have to deal one of these players anyway, but the added insurance of having the smooth skating Edmonton native in the fold would mean that the team would get stronger because it would have an upgrade on the blueline and also receive a face lift up front.
If Sheldon Souray as an example gets traded, his willingness to sign as an UFA will mean that whatever we get for him has not come via losing other assets. At the very least he helped his home town team on and off the ice. I for one hope that he stays, but it's anyone's guess who will get dealt, and the most noise seems to be coming out of Souray's corner.
If the Oilers can parlay Souray or Gilbert + into LA's 5th overall pick and land Bouwmeester, they will get younger and add another potential building block for the franchise going forward.