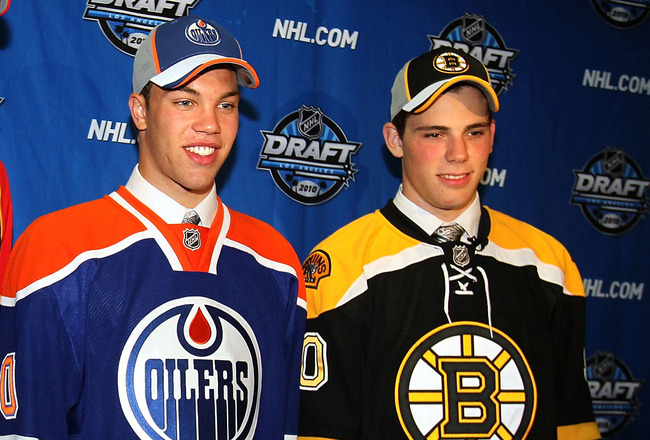 A number of Oilers fans, Bruins fans, and fans of NHL hockey in general are already proclaiming Tyler Seguin to be the superior player to Taylor Hall. I mean looking at their current stats it is mighty hard to dispute that.
Seguin has damn near as many goals (8) and Hall has points (9) with both having suited up 13 times this season. Add Seguin's 7 assists and he is outscoring Hall 15 to 9, if that isn't a big enough discrepancy for you there's Seguin's +11 rating vs. Hall's +3 rating, hell Seguin has also outshot Hall 43 to 35.
It's been all Seguin all the time so far this season. Hall to my eye hasn't hit his stride yet, he was fighting it in preseason and he's been fighting it and pushing his play in the regular season. Could it be that Hall has been taken by surprise by RNH and that it has put even more pressure on him? Prior to this season he was the undisputed face of the franchise, now RNH has come in and made some people question that, maybe even Hall himself.
Hall hasn't gotten many bounces to go his way so far this season, he has been targeted physically, and he hasn't been able to create for himself on the rush which is one of his biggest selling points. Seguin is well on his way to having the superior season, but let's just hold on for a minute before crowning Seguin "King Shit of Turd Island".
Looking at their stats around this point last year, they were quite similar actually Seguin went for 3-3-6 -2 and 25 shots and Hall went for 3-4-7 -7 and 33 shots in their first 15 games. The difference being that Hall really turned it up after that while Seguin stagnated. Is it a coincidence that Hall had a similar slow start last season? Is he simply a slow starter, or is this season just a perfect storm of uphill battles for Hall? Did the benchings and postseason appearances last year expedite Seguin's growth? Does Hall need to get met with a similar hard assed approach from Tom Renney that Seguin got from Claude Julien?
I'm inclined to think that Hall will turn it around while Seguin won't keep up his gaudy numbers. When it's all said and done, I believe that both will have had tremendous sophomore seasons and that many of the fans that are going with the hot hand right now might have to back pedal a bit in a few months time. If I'm wrong, Hall and maybe even the Oilers scouting staff will have a lot of soul searching to do and questions about whether or not Hall will reach the level that everyone expected him to reach when he went 1st overall.