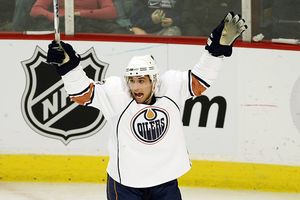 IMO it makes perfect sense. His upside is a better Horcoff, however Horcoff is signed to an immovable contract for 5 seasons, and Gagner's offensive upside is higher. Cogs is the one to go of the three.
We could go a couple of different directions.....
#1-Trade him and our 1st rounder to get into the top 5
#2-Trade him straight up for Toronto's pick
Yes Lowe and Burke are about as sociable as 2 drunken sailors from rival countries, but Tambellini could get this done.
Toronto receives a 2nd line center from the area that is coming into his own and who they have been ripped apart for not drafting in the first place, and the Oilers get a 6th or 7th overall pick to try to pluck another really good talent.
Potentially 2 top 10 picks from this years draft could really get this teams future headed in the right direction (of course with a new coach in place).
Perhaps a deal involving Cogliano and Grebeshkov or Gilbert could land us in the top 3 or 4 spots this year. Or the 6th/7th and our pick could do the same. The Oilers need an elite talent going forward, we cannot wait any longer to get it. A new coach, a young star, and an exciting new style of play. That is what it will take to get this team back on track.
In doing so, TambeLowe will have to think outside of the box, trading one of our best young players is probably the only way to get it done. That is of course unless Hemsky demands a trade.